By James Bone and Zahid Hussain, www.TheAustralian.com.au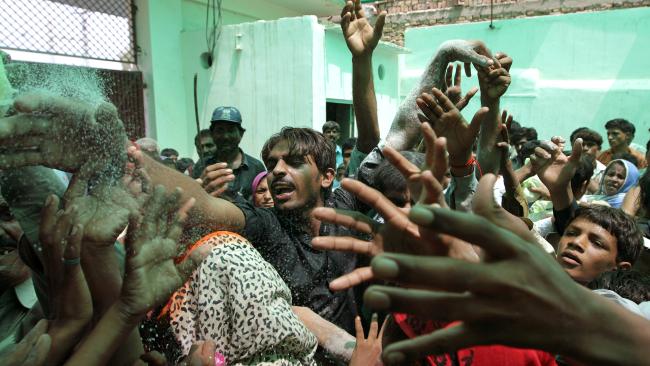 ISLAMIC nations are shunning a United Nations appeal for the worsening Pakistan floods, amid tensions with President Zardari.
Western countries have rallied to Pakistan's aid, with the U.S. and Britain the leading donors in the drive to raise $460 million [all figures are in US dollars] in the first 90 days. Hillary Clinton, the U.S. Secretary of State, is expected to attend a special meeting of the UN General Assembly on Thursday to show solidarity with Pakistan, diplomats said.
Not a single Islamic nation appeared yesterday on the UN's latest list of donors, despite efforts to reach out to them.
The US had pledged $62 million, followed by Britain with $26 million, bringing current commitments to $204 million — less than half of the UN's goal.
Japan came third with $13 million, followed by lesser pledges from 18 other countries. The World Bank promised a $900 million loan.
With 20 million people affected by the floods, the disaster has touched the lives of more people than the Haiti earthquake earlier this year, the 2005 Kashmir earthquake, and the 2004 Boxing Day tsunami. UN officials lament, however, that the aid response is falling short. "The response so far has been strong but we do need for it to be sustained and continue," said Nicholas Reader, a spokesman for the UN's humanitarian coordinator.
Mr. Reader noted that Islamic nations such as Saudi Arabia had traditionally given aid directly to Pakistan rather than through the UN. "The money we track is … given to the multilateral process and given through UN appeals," he said. "It does not track the money that is given bilaterally."
Analysts blamed Riyadh's strained relations with President Zardari for the apparent indifference of the oil-rich Saudi Government. "King Abdullah has never liked Mr. Zardari, for various reasons," said a former Pakistani diplomat.
"One is Mr. Zardari's closeness to the Americans. His being a Shia may also be a factor."
Shah Mahmood Qureshi, Pakistan's Foreign Minister, has asked the Organization of the Islamic Conference to convene a special session to help his country.
Turkey and Kuwait have pledged $5 million each and Malaysia has offered $1 million. Saudi Arabia has reportedly offered $100 million, but has so far sent only one aircraft with relief goods. The United Arab Emirates has dispatched six helicopters.
Anti-government protests broke out yesterday in many areas of Pakistan affected by floods as the UN warned that 3.5 million children were at risk from cholera and other diseases because the aid effort was inadequate.
Demonstrators blocked a road and attacked vehicles in Sukkur in President Zardari's home province of Sindh, as raging waters marooned dozens more villages. Protests were also reported in Punjab province, where millions of people are still without food, clean drinking water, shelter and proper medical help.