www.BBC.co.uk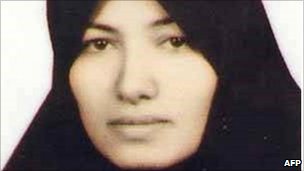 An Iranian woman sentenced to death by stoning for adultery now faces being whipped for indecency, her son says.
Iranian authorities sentenced Sakineh Mohammadi Ashtiani to 99 lashes after The Times newspaper published a picture purportedly of her without a headscarf. The Times later published a correction, saying the photograph was of a different Iranian woman.
After an international outcry, Iranian officials temporarily halted Ashtiani's stoning sentence in July. There are fears the death sentence could still be carried out by hanging.
Ashtiani's son has given several interviews saying he was told of the new sentence of 99 lashes by people who have recently been released from the prison in Tabriz where his mother is being held.
On 28 August, The Times published a picture it said was of Ashtiani that it had obtained from one of her lawyers. The lawyer, Mohammad Mostafei, who has fled Iran, said he received the picture from her son, Sajad Ghaderzadeh—a claim Ghaderzadeh denies. Ghaderzadeh said the new sentence was "an excuse to increase [the authorities'] harassment of our mother."
In an open letter, he said his mother had been sentenced to receive 99 lashes "on false charges of spreading corruption and indecency by disseminating this picture of a woman presumed to be her without hijab."
He said he did not believe the sentence had been carried out but that her family and lawyer had not been allowed to visit her for two weeks and she had not been allowed to use a telephone. Ghaderzadeh said the family was appealing against the sentence.
In May 2006, a criminal court in East Azerbaijan province found Ashtiani guilty of having had an "illicit relationship" with two men following the death of her husband. She was given 99 lashes. But that September, during the trial of a man accused of murdering her husband, another court reopened an adultery case based on events that allegedly took place before her husband died. Despite retracting a confession she said she had been forced to make under duress, Ashtiani was convicted of "adultery while being married" and sentenced to death by stoning.
In August, Iranian TV aired what it said was a confession from Ashtiani of her involvement in her husband's 2005 murder.