By Dudi Cohen and Agence France-Presse
Iran celebrated the 30th anniversary of its Islamic Revolution at a ceremony on January 31, 2009. Various Iranian leaders visited the grave of Ayatollah Ruhollah Musavi Khomeini, the leader of the revolution and usurper of the U.S.-backed Shah.
"The revolution is lively and alive after 30 years," President Mahmoud Ahmadinejad said at a ceremony marking the event. "We are still at the beginning of the path and greater changes are ahead. This thunderous revolution will continue until justice is implemented.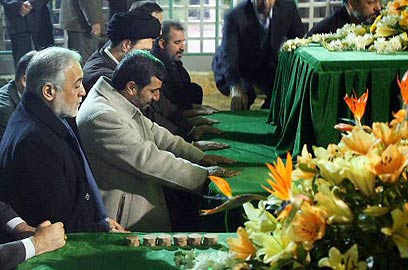 Ahmadinejad at famous grave site (Photo: AFP)
"Although the Islamic revolution happened in Iran it is not limited to Iranian borders," he added. Crowds chanted "Death to America! Death to Israel!" at the ceremony at Khomeini's mausoleum in southern Tehran also attended by supreme leader Ayatollah Ali Khamenei, government ministers and military commanders.
The ceremony was once again rife with anti-American and anti-Israeli sentiment, and various speakers stressed Iran's support for the Palestinian people. Former president Akbar Hashemi Rafsanjani said the "Gazans and Hizbullah were able to defeat the army of the Zionist regime because of the effective influence of Iran."
The revolutionary leader's grandson Hassan Khomeini said, "Because of Islam we saw victory in Gaza and Lebanon. Iranians are proud because Khomeini was the flag bearer of this Islamic awakening worldwide."
Hundreds of military personnel, policemen and civilians gathered at the shrine to pay their homage as poets recited Khomeini's poems and a military police band played traditional songs.
A group from the hardline Basij militia on Friday washed Khomeini's tomb with rose water – an Iranian custom to honor the dead – and the grave was later strewn with flowers.
Each year, to mark Khomeini's triumphant return after 15 years in exile, all schools, trains and boats ring their bells at precisely 9:33 am, the moment his plane touched down on February 1, 1979.
The country is holding 10 days of celebrations marking the anniversary of the overthrow of the shah, who ruled Iran for almost four decades but fled just two weeks before Khomeini's return.