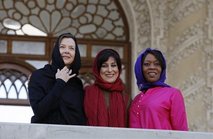 By Nasser Karimi, Associated Press
According to the website of Iran's Cinema Association, a team of visiting Hollywood actors and movie industry officials met with a group of Iranian artists before holding educational seminars in directing, screenwriting, acting, producing, marketing, and film distribution. The group included President of the Academy of Motion Picture Arts and Sciences, Sid Ganis; actors Annette Bening, and Alfre Woodard; producer William Horberg; AMPAS Special Events Programmer and Exhibitions Curator Ellen Harrington; and Tom Pollock, the former Universal Pictures chairman.
While American actors such as Sean Penn have traveled to Iran, it is rare for such a large group to visit. In February, Iran denied visas to a U.S. women's badminton team that had been invited to compete in a tournament in Iran.
Javad Shamaqdari, the art and cinema adviser to President Mahmoud Ahmadinejad, says Iranians will warmly host the visiting Americans "but it will not stop Iranians from demanding an apology." He says films such as 300 and The Wrestler were "insulting" to Iranians.
The film 300 portrays the battle of Thermopylae in 480 B.C., in which a force of 300 Spartans held off a massive Persian army at a mountain pass in Greece for three days. It angered many Iranians for the way Persians are depicted as decadent, sexually flamboyant and evil in contrast to the noble Greeks.
Iranians also criticized The Wrestler starring Mickey Rourke as a rundown professional wrestler who is preparing for a rematch with his old nemesis, "The Ayatollah." During a fight scene, "The Ayatollah" tries to choke Rourke with an Iranian flag before Rourke pulls the flagpole away, breaks it, and throws it into the cheering crowd.
Neither movie was shown in Iran.
After reporting this story on Saturday Night Live's Weekend Update, Seth Meyers commented: "Well how about this, Iran—You apologize for the hostage crisis, pursuing nuclear weapons, high gas prices, financing Hamas, denying the Holocaust, and setting fire to the Danish embassy because of a couple of cartoons—and then you'll get your apology for The Wrestler."