New Rules Reinstate Tax Treatment for Gifts to Charity
By Laura Saunders / The Wall Street Journal
Better late than never.
On New Year's Day 2013, Congress renewed the highly popular but expired individual retirement account charitable-rollover provision for people at least 70½ years old. The extension is retroactive to Jan. 1, 2012, and will be in effect until year-end, when it lapses again for the fourth time in a decade.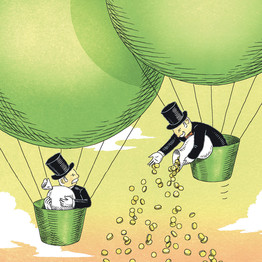 To atone for their dawdling last year, lawmakers are allowing givers to make 2012 IRA donations this month and to recast payouts taken in December to take advantage of the retroactive extension.
Charities are cheering the renewal. On Jan. 14, New York's Metropolitan Museum of Art emailed members about the "new rollover opportunity," as did the Naromi Land Trust, a group that preserves about 2,000 acres of open space in Sherman, Conn.
Here's how the rollover provision works for 2012 and 2013.
IRA owners 70½ and older can make direct contributions of up to $100,000 of their account's assets to one or more qualified nonprofit groups. In almost all cases, the assets bypass the account owner and go directly from the IRA to the charity—a requirement that sponsors such as Fidelity Investments, Vanguard Group, and Charles Schwab are accustomed to.
The charities can be churches, schools or other groups—the same ones taxpayers typically give to—but not most private foundations. If the recipient is a community foundation, the donor might need to make the gift to the group's endowment, not its donor-advised fund.
For its part, the nonprofit should send a timely acknowledgment that the group has received the contribution and no goods or services were provided in return. The taxpayer should have this in hand before filing his return.
There are several possible benefits to the move. Although the gift can't be claimed as a charitable deduction, the payout doesn't count as taxable income, either. So an IRA donation doesn't raise adjusted gross income in a way that could trigger higher Medicare premiums or taxes on Social Security benefits. Both Medicare Part B and Part D payments rise with income, so minimizing adjusted gross income can be important.
Adjusted gross income also is the threshold determining eligibility for a host of other taxes and tax benefits, especially in 2013. They include the new 3.8% investment income tax, the new phaseout of personal exemptions and itemized deductions, the deductibility of medical expenses, casualty losses and miscellaneous deductions, and certain tax credits.
Another benefit: The donation can count as part of the IRA owner's required annual withdrawal. So a charitably minded account owner who must take out, say, $25,000, can divert part or all of it to his favorite causes instead of writing checks, with no taxable income on the payouts.
Congress's foot-dragging last year put many would-be donors in a difficult position: The law required them to take a minimum IRA withdrawal, but they didn't know whether direct donations from an IRA would be allowed for 2012.
Tweaks in the new law address this issue. Most IRA minimum withdrawals had to be made by Dec. 31, 2012, but account owners can make cash gifts to charities up to the amount of their December withdrawals through Jan. 31, 2013, and count those as IRA direct donations.
They can even reclassify cash amounts they gave to charities in December as IRA donations, as long as the checks were written after the IRA payout, says Conrad Teitell, a lawyer at Cummings & Lockwood in Stamford, Conn. But the $100,000 limit still applies, he notes.
Here's an example: Tired of waiting for Congress to act, an IRA owner took his required withdrawal of $25,000 on Dec. 10 and then wrote checks totaling $7,000 to four charities on Dec. 27.
Under the new rules, he will be able to reclassify the $7,000 of December gifts as IRA direct donations on his 2012 tax return, Mr. Teitell says. If the owner does this, he also could give charities up to $18,000 this month and count them as IRA charitable gifts for 2012.
IRA owners also can count January 2013 IRA donations done in the usual way—through direct transfers—as gifts for 2012. That's why many nonprofits are soliciting now. For more information, see IR-2013-6 at www.irs.gov.
Potential IRA donors should beware, however. Making such gifts isn't always the best move, experts say. Charitable gifts of appreciated assets—such as shares that have risen to $50 apiece from $5—also are highly tax-favored. The giver gets to skip paying capital-gains taxes and deduct the full market value of the gift, within certain limits.
Which is better? The answer depends on the size of the gift, how much asset appreciation there is, and the donor's overall investment, estate-planning, and giving goals, Mr. Teitell says. With large gifts, it's important to run the numbers.
But there are rules of thumb. Gifts of IRA assets often make sense if the donor doesn't itemize deductions, has few or no liquid assets outside the IRA, or is concerned about minimizing adjusted gross income. David Lifson, a tax specialist at Crowe Horwath in New York, says IRA donations often are appropriate for people who have large IRAs they don't anticipate using.
Don't forget about state tax benefits: "A direct IRA donation often provides a state tax benefit because it lowers income, while other charitable gifts can be limited or disallowed," says Mr. Lifson.
see the original post
http://online.wsj.com/article/SB10001424127887323783704578247781682321430.html