Investigation report accessed by The Times of India says five members of Iran's Revolutionary Guard Corps were behind a February attack that injured the wife of an Israeli diplomat in the Indian capital. Indian authorities have contacted Iran for more information about the suspects.
From Israel Hayom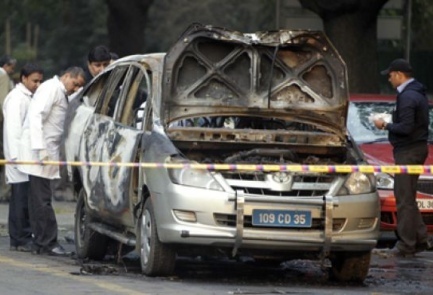 After Indian officials alleged that Iran was involved in the bombing attack on an Israeli diplomat in New Delhi in February, Delhi police now conclude that the suspects behind the attack were members of Iran's Revolutionary Guard Corps, The Times of India reported on Monday, July 30.
In the attack, Tal Yehoshua Koren, the wife of the Israeli defense ministry's attache in India, was seriously wounded.
The report of the investigation, which was accessed by The Times of India, shows that members of the Revolutionary Guard had discussed the plan to target Israeli envoys in India and other countries with Indian journalist Syed Mohammad Ahmad Kazmi in January 2011. The attack was apparently planned as a retaliation to the assassination of Iranian nuclear scientists, for which Iran has held Israel responsible.
Indian police also discovered that Kazmi was in contact with the Revolutionary Guard members for nearly 10 years.
Information about the suspects has been shared with Iran through official channels, The Times of India reported.
Indian police are apparently seeking further information over the five Revolutionary Guard members suspected of being behind the attack, including Houshang Afshar Irani, believed to be the main bomber. Irani mentioned his profession in Iran as a builder. According to the report, the other suspects are: Masoud Sedaghatzadeh, a sales employee in a commercial company in Tehran; Syed Ali Mahdiansadr, a cellphone shopkeeper in Tehran; Mohammad Reza Abolghasemi, a clerk in the finance department of Tehran's water authority, and Norouzi Shayan Ali Akbar, a retired accountant.
According to information in the investigation report, Masoud is believed to be the operational head of the group and he was the one who masterminded the attacks against Israeli targets in Georgia, Bangkok, and Delhi.
Delhi police believe that an Iranian woman, identified as Leila Rohani, was also involved in the February attack in New Delhi as well as the attacks in Bangkok and Georgia, and have asked Iran for further details about her as well. Police believe Rohani helped the Iranian suspects get an apartment in Bangkok before the attack there on February 14. Following the attack, they believe she fled to Tehran.
Following the terrorist bombing of a tourist bus in the Bulgarian city of Burgas just two week ago — which killed five Israelis and a Bulgarian — Prime Minister Benjamin Netanyahu accused Iran of being behind the attack. An investigation into the bombing continues.