By Ethan Sacks / NYDailyNews.com
Seven decades after helping his fellow Monuments Men rescue priceless art stolen by the Nazis, Harry Ettlinger is finally himself a national treasure.
As the big-screen version of his World War II story, The Monuments Men, opened in theaters, the New Jersey native is getting his due for his role as one of the ragtag American art experts/soldiers who saved great works from the Nazis.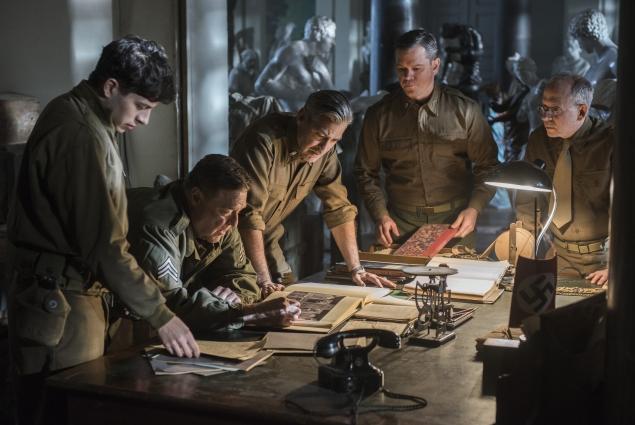 "I am glad that finally you can hear about the mission," sais Ettlinger, who turned 88 in February. "I feel good about that."
Based on the 2009 book of the same name, The Monuments Men stars George Clooney, Matt Damon, John Goodman, and Bill Murray as a team of dedicated art lovers and gunslinging soldiers out to prevent historic works from becoming history. Ettlinger is portrayed by England's Dimitri Leonidas, though his character is renamed Sam Epstein.
That wasn't all that changed: Epstein gets a lot more fresh air in the film, since Ettlinger spent much of the final months of his tour of duty 700 feet below ground in a German salt mine, unearthing pilfered artwork like stained glass panes from the Cathedral of Strasbourg.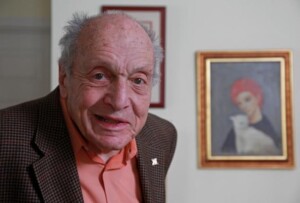 "I found the movie very entertaining and very educational," he says, laughing, "because I did none of those things that are played in the film."
One thing that Ettlinger did do was write a long letter to Leonidas to help the kid prepare for the role. The British actor says that gesture was priceless.
"You get so focused on making the movie, you tend to forget the story behind it," says Leonidas, "Receiving a letter like that snatches you back and puts it in a real perspective."
Not that Ettlinger's real-life exploits were any less exciting than the ones in the movie. He can still close his eyes and remember his first glimpse of an original self-portrait by Rembrandt stashed away by the Nazis in the bowels of the Heilbronn salt mine.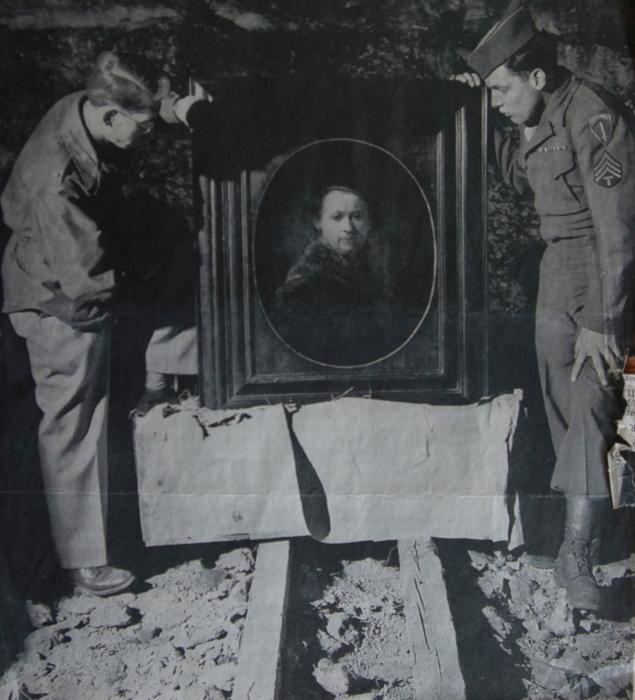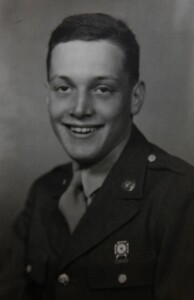 The legendary Dutch painter's 17th century selfie wasn't like any of the other thousands of paintings stacked in the darkness. Ettlinger had heard of its magnificence as a child growing up in the German city of Karlsruhe, but as a Jew, he was barred from visiting it at the local museum.
But deep in that salt mine — six years after fleeing Germany for the United States on the day after his bar mitzvah and ahead of a Nazi crackdown — Ettlinger had now earned the right to cast his own eyes on the canvas as an American Monuments Man.
"I had never seen anything like that painting," Ettlinger says, still bearing a trace of the German accent that he brought with him when his family fled to New York in 1939. "We were brought up to be highly appreciative of art, [but] as a Jew in Germany you were not allowed to go in museums."
Ettlinger's biggest "soldiering" moment came when he helped foil a would-be saboteur's plot to blow up the Heilbronn mine by hiding jars of unstable nitroglycerine in a remote storage room.
"They cleared out the mine of personnel very fast," he says chuckling.
It's always hard to see one's life depicted on the big screen, but Ettlinger says he's proud of his time as a Monuments Man — even if Hollywood's magic makers blurred the overall portrait.
"I didn't think too much about the philosophical things," says Ettlinger. "What I did think at the time was, 'Harry, you're doing a good job.'"