Details trickle in from unnamed sources outside of the White House.
By Josh Voorhees http://slatest.slate.com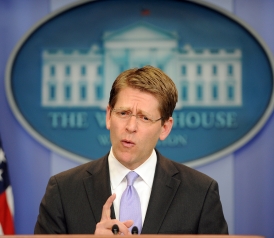 Details about Osama Bin Laden's death continued to emerge Wednesday, but the latest batch of specifics suggests that the White House may be losing control over exactly what becomes public and when.
First, the latest development: The al-Qaeda leader had 500 euros in cash and two telephone numbers sewn into the clothing he was wearing at the time of his death. The revelation suggests that Bin Laden was prepared to flee his secret compound at a moment's notice if he got wind that the U.S. military had learned where he was hiding.
But what is nearly as interesting as the news itself is how those particular details seeped out to the media.
Politico first reported the story Wednesday morning, citing three unidentified lawmakers who attended a classified national intelligence briefing Tuesday. Other outlets, including CBS News and Fox News, then confirmed the story through other sources. (Fox cites an unidentified U.S. official; CBS does not provide details on how it confirmed the news.)
That marks a slight departure from how many of the details have emerged since news of Bin Laden's death first became public. With the exception of the rough outline provided by President Obama during his televised address Sunday, most information has come from a handful of U.S. officials within the executive branch who have spoken to the media.
While those officials have occasionally contradicted one another, taken together their comments paint a picture of a White House eager to micromanage the news narrative. Administration officials have been quick to push back against reports of unflattering characterizations by the press, such as reports that the mission was a "kill operation" or that Obama was anything but decisive in ordering the raid that killed Bin Laden.
But for every hour that passes since the successful mission, more and more people are being briefed on still-classified details. Meanwhile, Pakistan reportedly has custody of several members of Bin Laden's family, at least one of which—his young daughter—appears to have been an eyewitness to Bin Laden's killing.
That will make it increasingly difficult for the White House to remain in control of the story.
(Don't be confused by the unidentified U.S. officials that have been quoted in many of the early reports. Those people have almost certainly been given permission by the White House to talk to the media "on background," which is media parlance for sharing information with the agreement that their name and specific position is not shared.)