By Todd Baker, To The Jew First mission fund
Later in the evening of the same day my phone was taken, Pastor Ralph Conn gently took me aside and said he felt led of the Holy Spirit to pray with me that God heavily convict this woman, who took the phone, so that she would give the phone back or discard it so that it could be found and returned. Two hours later in an amazing answer to this bold prayer of faith, Tamar Keres, an old friend of mine for many years, called me at the hotel from Tel Aviv to say, "A miracle has happened." She then explained that an Orthodox man found my old phone on the street called the last number on the phone log, which happened to be Tamar's number. She informed me that since the man could only speak Hebrew, I should therefore arrange for the phone to be delivered to the hotel by taxi. The man told her that he found the phone lying on the sidewalk next to the bank some two blocks away from the tourist center where I left the phone. I was not at the bank location at anytime and obviously the hostile woman that I talked with at the tourist center must have taken the phone and threw it there. God used this spiteful act from someone having a spirit of anti-Messiah to further give other Jewish people the opportunity to hear about the Messiah's redemptive love for them, who would not have heard it any other way. Indeed, Psalm 76:10 is true in the case of this spiteful woman when it says: "Surely the wrath of man shall praise you, the remainder of wrath you shall restrain." The next day our witness for Messiah Jesus continued in Tiberius with a journey to Nof Ginosaur—a beautiful kibbutz in northern Galilee. There we met a young Israeli man working at the café. His name was Iddo.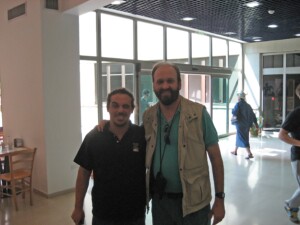 When I went up to pay for my lunch, I said to him that coming to Israel was like coming home because this was the homeland of my Messiah Yeshua.
I then offered Iddo and the female cashier a Messianic Gospel tract entitled "Love the Jewish People". When giving this to him, I said that our outreach team does love Israel for what they have given the rest of the world—the Hebrew Scriptures and the Jewish Messiah. Iddo was very excited about hearing this. When I inquired if he had read the Tenach (what Christians call the Old Testament) Iddo immediately replied that he had. I then asked him if he ever looked at the New Testament to learn about Yeshua's life and ministry in Galilee—a place where He did so much of His ministry. Iddo said he only read excerpts from the New Testament in high school. I decided to offer him a free copy of the New Testament in Hebrew (Brit Hadashah) to which he gladly and gratefully accepted this gift. When giving him the inspired text, I said to Iddo that many Jewish pretenders came to the Jewish people proclaiming to be the Messiah and only one is the true Messiah. He listened with obvious interest and openness. I also remarked that God provided a foolproof method for identifying whom that true Messiah would be when He comes. That method was found in the Messianic prophecies contained in the Tenach that Messiah would fulfill when He came to Israel. Some of these prophecies were: (1) Messiah would be born in Bethlehem (Micah 5:1-2); (2) Messiah would die by crucifixion and rise again (Psalm 16:10; 22); (3) Messiah's ministry would begin in the region of Galilee (Isaiah 9:1-3). I then plainly told him these and many other Messianic prophecies were historically fulfilled in the life, death, and resurrection of Jesus the Nazarene. He is alive today and wants to bring the Jewish people to Himself. Iddo could learn of this now by reading the New Testament I gave Him. Iddo was touched by these truths and was very grateful for the gift of the Scriptures he received from this ministry.
Later in the evening, I remembered an old fishing hole (a term I use for a good place in Israel where Jewish people are open to the Gospel of Yeshua). This place was at the restaurant located in the Caesar Hotel in Tiberius. Several past issues of Search the Scriptures (at www.brit-hadashah.org) in the past years have documented these witnessing encounters. When our outreach team arrived, our waitress who came to our table proved to be a very gentle, open, and sensitive soul. Her name was Tohar (which is the word for purity in Hebrew). We asked her how life in Israel was going in the last year after the war in Gaza. Tohar's response was that life seemed difficult. We encouraged her that the God of Israel will not let His Chosen People be destroyed nor forsaken. He will defend and vindicate them until the end of the present age when Messiah will come and rescue them from the gentile nations' attempt to eradicate Israel at the battle of Armageddon. Ralph, Debbie, David, and I unanimously expressed our sincere gratitude and deep love for the Messiah's people to her.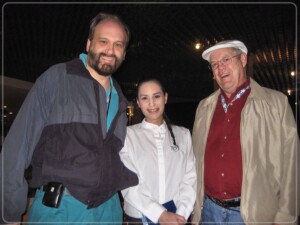 Tohar was visibly touched to the point of tears. To pay our gratitude of debt to her people, we offered her a copy of a complete Jewish Bible containing both the Old and New Testaments (Tenach and Brit Hadashah). Tohar received it with such reverence that she and three of her co-workers kissed the Scriptures with humble reverence with the same gesture that is regularly done in the Synagogue when the Torah Scrolls are passed around among the attendees. Later on, Tohar came back to our table and said that she did the same thing when praying over her food, like when she ate bread that God gave to sustain her physical life. She then cupped her hands as if she had bread in them and kissed it to show her thankfulness to God for giving her food. And now she was showing the same reverence for the New Testament Scriptures that tell of the Messiah of Israel. We were greatly moved at her response. Right away we pointed out to Tohar that Yeshua compared Himself to physical bread when calling Himself the Bread of Life in John 6. Thus, He meant to say by this metaphor, that when a person receives Him as Lord and Messiah, he or she would have eternal life with God. Deborah Conn plans to keep in touch with this precious young lady in the hope of further teaching her in the ways of Yeshua the Messiah.