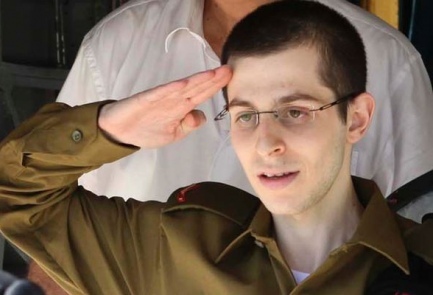 Half a year after his release from more than five years of captivity in the Hamas-ruled Gaza Strip, Sgt. 1st Class Gilad Shalit is being discharged from the Israel Defense Forces. Unlike other soldiers on their day of release, Shalit will not need to report to the Tel Hashomer Recruitment Base in Tel Aviv to receive his official discharge from the army, but will instead benefit from a quick computerized process from his home in Mitzpe Hila in northern Israel.
Shalit signed his release papers on Monday in the presence of an officer from the IDF's Personnel Directorate. Upon his release, he will be transferred to the Defense Ministry's Rehabilitation Division as a disabled veteran.
Shalit was freed Oct. 18, 2011, in exchange for 1,027 Palestinian prisoners held in Israeli jails, in what some have called the most lopsided prisoner swap in Israeli history. Meanwhile, some of the Palestinians released in exchange for Shalit have apparently returned to participating in terror-related activities.
Omar Abu Sanina, who was among those released, wrote an instruction manual for terrorists in Judea and Samaria on how to kidnap Israeli civilians or soldiers: "You must avoid hiding the [prisoner] in barren places, in a cave or in a wooded area, unless it is a body or a head. If it is a living person, who must be brought food and drink at least once a week, it is preferable to hide them in a home, a farm, a work place etc."
Abu Sanina transferred the instructions, which included specific methods of carrying out a kidnapping, on a memory card to his family in Judea and Samaria. The memory card was intercepted by the Israeli Security Agency (the Shin Bet). Abu Sanina, 31, a Fatah member sentenced to life in prison, was expelled to Gaza during the first phase of the prisoner swap.
Among other things Abu Sanina wrote his family for them to pass on: "You must try and procure resources, weapons and explosives, but with extreme caution and through the appropriate channels. Arms can be taken from the enemy, even if you must first use a cold weapon." Abu Sanina emphasized that "in the first stage, a cell must be created according to the guidelines, its members must be equipped with whatever they need and the cell must train to carry out uncomplicated attacks."
In order to maintain secrecy, Abu Sanina wrote, "You must inform us of the attack only after it is done, and only through coded messages. You mustn't discuss anything in the open or give details; only face to face. The announcement of the attack will be done by us through the 'Supreme Military Council.'"
The ISA on Tuesday also reported another case of terror activity by a prisoner released for Shalit: Daoud Hilou, 21, from Ramallah.
Hilou was convicted for attempting to sell arms, for which he was caught only a month after his release. At the end of March, an IDF military court sentenced Hilou to 44 months in prison. In addition to that, he will have to serve 17 months from the previous sentence he was serving before being released early as part of the Shalit deal.