By Sarah Morrison, www.IsraelNN.com
Berta Lovinger is no ordinary olah hadasha [new immigrant to Israel]. At the ripe old age of 95, she was the oldest Jew to come home to Israel on the Nefesh B'Nefesh flight of new immigrants. The Nefesh B'Nefesh (NBN) organization eases the obstacles facing North American Jews wishing to make aliyah (move to Israel), and organizes planeloads of new immigrants. NBN brought more than 3,000 Jews from Western countries to the Jewish state in 2007.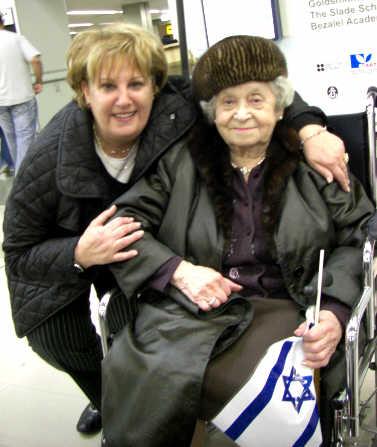 Finally home, Berta Lovinger touches down on Israeli soil.
Originally from Hungary, Mrs. Lovinger is a Holocaust survivor, along with her two children. The three of them went into hiding under falsified Aryan papers that her husband acquired.
"I hid in a small village in Czechoslovakia with my two children, who were eight and eleven at the time. I saved them. Nobody else came back from the Holocaust with children. Only I did. Nobody asked me who I was in the village. I took care that my children wouldn't go out, because someone might have asked what their names were. It was not so easy. We are here, though. My children [Miriam Pollak, 71, and Alex Lovinger, 69] are here in Israel, and I could not ask for more."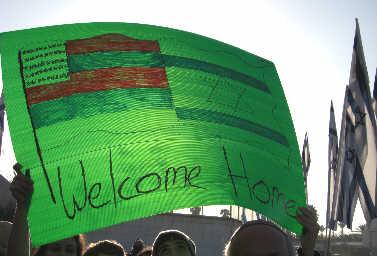 Poster of U.S. and Israel Flags
After the Holocaust, Mrs. Lovinger moved to Montreal, where she spent the past sixty years until she made her recent decision to come to Israel.
Moments after her wheelchair touched down on the tarmac at Ben Gurion airport, Mrs. Lovinger was asked by Israel National Radio why she was making aliyah. "I moved here because my children are here. It was very lonely in Montreal. I realized that I could be with my children and grandchildren if I move. Now, I will join them. I'm so happy to be here."
Mrs. Lovinger will reside in Petach Tikva, outside Tel Aviv, with her daughter.
"I have to count how many grandchildren I'm going to be with! I also have one great-grandson, and I'm so happy to be with all of them," Mrs. Lovinger said.
Her one great-grandson is currently serving in the Israel Defense Forces.
"I don't complain. I have everything," Mrs. Lovinger said. "I'm happy I'm in Israel, and I enjoy whatever comes to me. At 95 years old, what else can I say?"