Humanitarian mission to typhoon-struck country, which departed Wednesday with over 100 tons of supplies, begins treating casualties
TimesOfIsrael.com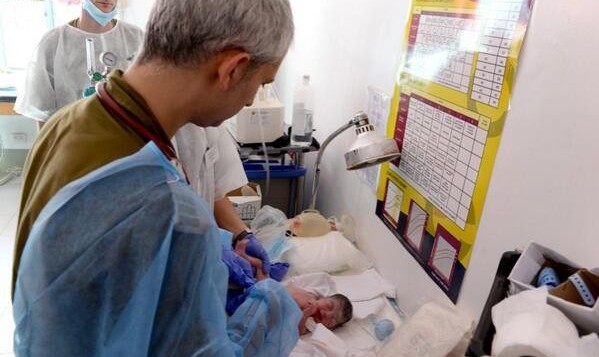 The first baby boy delivered by members of the IDF mission in the field hospital set up in the typhoon-struck Philippines will be named "Israel," the army tweeted Friday morning.
"It's a boy!" wrote Israel Defense Forces (IDF) Spokesman Peter Lerner on Friday, "Amazing news coming out of the IDF field hospital. First baby delivered. The thankful mum named him Israel."
The IDF humanitarian mission completed the set-up of the hospital earlier Friday, after departing for the storm-ravaged city of Daanbantayan, in the northern province of Cebu, late Wednesday with about 100 tons of supplies. Casualties were already being brought in for treatment, according to reports.
The 147-member group, comprising national search-and-rescue unit officials and senior doctors in the IDF medical corps, was tasked with rapidly setting up a "multi-department medical facility" to provide medical care for casualties of the disaster.
The facility has children's, women's, and ambulatory-care departments, as well as a general-admission department, and is "equipped with approximately 100 tons of humanitarian and medical supplies from Israel."
Defense Minister Moshe Ya'alon spoke with the Philippines Secretary of National Defense, Voltaire Gazmin, Friday to express his condolences for the lives lost in the storm.
"The Israeli people feel the pain of the Filipino people and stand by you at this difficult hour," Ya'alon said, according to a statement released by the Defense Ministry. "I am hopeful that the IDF mission to the Philippines will do as much as it can to save lives."
The death toll from the typhoon, which made landfall in the central Philippines on Friday November 8, could be at least 10,000, according to reports, though the official death toll currently stands at more than 4,000.
The United Nations says the storm affected 11 million people in all, more than 670,000 of whom lost their homes. The enormity of the task of helping them all has pressed the resources of the Philippines hard.