Amir Mizroch www.IsraelHayom.co.il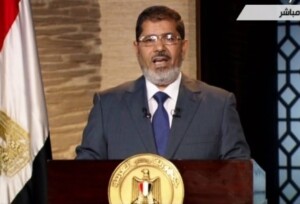 For a few brief moments on Wednesday, it seemed that Israelis' fear of renewed hostilities with an Islamic-led Egypt had been put to rest. A Twitter message (called a "tweet"), ostensibly from the official account of new Egyptian President Mohammed Morsi, made waves by saying that Egypt's new leader had reached out in a letter to Israeli leaders, invited them to a conference in Cairo, and promised to maintain peaceful relations.
Alas, it was not to be. It wasn't long until the @PresMorsyEgypt account was confirmed to be fake by several leading regional journalists. Morsi's official account is @DrMorsy2012 and has more than 41,000 followers. @PresMorsyEgypt was created on Wednesday and has only nine messages, but has managed to gain some 3,000 followers.
The Twitter message on what is labeled "his official English Twitter account" tweeted that President Mohammed Morsi, of the Muslim Brotherhood, had said that he "confirmed his intention to continue peaceful cooperation with Israel, to respect peace treaty."
The message continued that Morsi had sent a letter addressed to Prime Minister Benjamin Netanyahu and President Shimon Peres. "The President of Egypt officially invites the President of Israel Mr. Peres to a bilateral meeting in Cairo on August," the Twitter message said.
In an earlier tweet, "Morsi" said, "The Arab Republic of Egypt and the Islamic Republic of Iran will sign a global treaty of friendship and cooperation in August in Tehran. … In a phone conversation with President Ahmadinejad. I confirmed him that we must restore normal relations with Iran."
In the introductory message to the English account, "Morsi" wrote: "Welcome to my Official Twitter Account in English. I will write about the new Egypt. Thank you to follow me. Mohamed Morsy."