By Elise Solé / shine.yahoo.com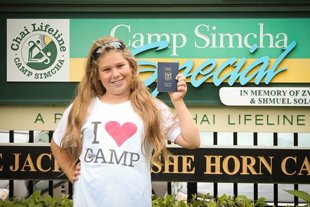 An El Al Airlines pilot made an extraordinary gesture toward an 11-year-old girl who had been removed from a flight from Israel to New York City after she lost her passport.
Inbar Chomsky of Rehovot, Israel, planned to attend Camp Simcha in Glen Spey, New York for children who suffer from cancer and other hematologic illnesses. The camp program is offered by Chai Lifetime, a non-profit international organization.
On August 8, all 36 children excitedly boarded the El Al flight for their two-week trip to the United States. After they underwent a pre-flight medical examination and were seated, the flight crew began collecting passports, while the plane prepared for takeoff. However, during the process, one flight attendant realized that Chomsky's passport was missing.
The crew began frantically searching the aircraft but no one could find it. "It was pretty chaotic," Rabbi Scholar, executive vice president of Chai Lifetime told Yahoo! Shine. "There is so much medical clearance that takes place before these kids are allowed to get on an international flight and to have this happen to a little girl who has already gone through so much, was unfortunate."
The search party expanded. The ground crew boarded the plane to help out and the airport staff scoured the area between the boarding gate and the plane. Passengers were getting restless and with time running out, the pilot stepped out of the cockpit and informed Chomsky that without a passport, she wouldn't be able to fly to New York. They called her mother to pick her up.
"Everyone was very emotional," said Rabbi Scholar. "There wasn't one person on that flight who wasn't in tears or upset for this little girl. However, there was nothing that could be done."
The plane had almost reached the runway when someone located Chomsky's passport in the backpack of a fellow camper. Immediately, the pilot alerted the control tower, ground crew, and El Al's offices to see if he could retrieve Chomsky. After 30 minutes of negotiations, the pilot turned the plane around and picked her up, to the cheers of the other passengers.
Although Yahoo! Shine could not reach an El Al spokesperson for comment, the airline sent a statement to The Times of Israel that read, "Planes rarely return to the gate after departing. The plane was on its way to the runway, when the passport was found on the plane. After consulting with El Al crew on the plane and El Al staff at the airport the decision was made and the plane returned to pick up Inbar. El Al was honored and proud to help Inbar's dream to go to the camp in the USA come true. We wish Inbar full recovery and health."