www.LiveLeak.com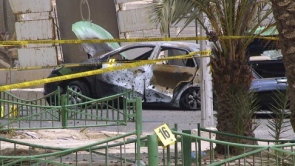 Wreckage of cars damaged by a rocket
attack is seen at a hotel area in Jordan's
Red Sea city of Aqaba August 2, 2010. Photo by: Reuters
The deadly rocket attacks on Israel and Jordan's Red Sea ports on Monday, August 2, 2010, were carried out by the militant Palestinian Hamas group operating from Egypt, an Egyptian official said, after days of denials.
Immediately after a barrage of rockets crashed into the sea near Israel's Eilat resort town and killed a taxi driver in Jordan's Aqaba port, Egyptian officials strongly denied the rockets had come from its soil.
The security official said Hamas had fired seven rockets, including one which misfired and left debris near a security facility in the town of Taba, a small Egyptian town near the northern tip of the Gulf of Aqaba.
The attackers fired Soviet-style Grad rockets of the type used by militants in Lebanon and Gaza, he added, speaking on condition of anonymity because of the sensitivity of the issue. The rockets hit a narrow area of the Red Coast where the Israeli and Jordanian ports are located side by side. One person was killed and four people were wounded. It was the second such attack this year, after a similar volley in April that
Israel also said was fired from Egypt.
Aqaba and Eilat are more than 186 miles from Hamas's stronghold in the Gaza Strip. However, an unnamed Egyptian source told Egypt's state MENA agency shortly after the attack that "preliminary information indicates that Palestinian factions from the Gaza Strip are behind that operation."
Defense Minister Ehud Barak, when asked if he was convinced the rockets were fired by Hamas, told Israel Radio there could be a link. "I do not want to say 'convinced,' but it could be that there is a link between Hamas and this firing—perhaps not people who are part of Hamas in Gaza, perhaps a link that is a little more indirect," he said.
Egypt has not indicated where the rockets were launched from, but said it was scaling up the investigation. "Egypt will not accept the use of its land by any party to harm Egyptian interests," the Egyptian security source said.
In 2005, rockets were fired at U.S. warships in Aqaba but missed their target and killed a Jordanian soldier on land. A group claiming links to al-Qaeda said it was behind the attack.
Two years later, a Palestinian suicide bomber infiltrated through Sinai and killed three people at a bakery in Eilat, a tourist resort on Israel's southern tip which has only rarely been touched by the Middle East conflict.
Jordan and Egypt are the only Arab states to have full peace treaties with Israel. Those relations were frayed by Israel's crackdown a decade ago on a Palestinian uprising in the West Bank and Gaza Strip.
Although Egypt had initially denied that the rockets were fired from its territory, security forces in Israel were certain that the rockets came from Sinai, as has happened in the past. A number of terrorist groups are operating in the Sinai peninsula and are busy smuggling arms into the Gaza Strip, with efforts to penetrate into Israel. Among the groups operating in the Sinai are those with links to Hamas, Hezbollah, al-Qaeda, and other global jihad groups.
A senior Israel Defense Forces (IDF) source said that the rockets were meant to "embarrass Egypt." Israel's long border with Egypt is relatively unguarded compared to the electric fences and advanced surveillance systems surrounding the Gaza Strip.
The presence of terrorist groups in the Sinai is one of the reasons for the serious travel warning issued by Israel's Counter Terrorism Unit against Israelis traveling to Sinai and Egypt.
Senior IDF sources stressed that in the past year there has been significant improvement in the coordination of activities with the Egyptian and Jordanian armed forces, but they also note that on the Egyptian side there is still some hesitation to confront the gangs in the peninsula head on.