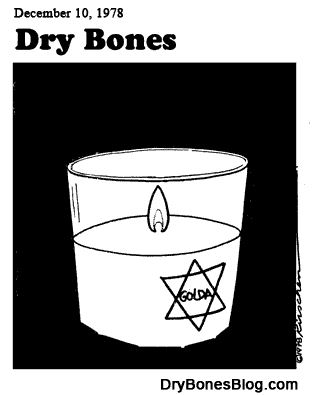 Comment from Dry Bones cartoonist, Yaakov Kirschen:
Today's Golden Oldie is from December 1978.
Golda Meir, Israel's tough grandmother of a Prime Minister passed away exactly 30 years ago this month. I drew a Yahrzeit Candle. Yahrzeit is Yiddish for Yearly Time and a Yahrzeit Candle is lit to mark the anniversary of the death of a loved one.
When I was a kid Yahrzeit Candles were encased in heavy weight drinking glasses (like the one in the cartoon) …which, after they had served their solemn purpose, were indeed added to the household's supply of drinking glasses.
* * *
I posted this cartoon because thirty years since the passing of Golda is a milestone in our history, or so it seems to me.