JPost.com
Director of the Knesset Christian Allies Caucus calls on Israel's supporters to battle anti-Zionism.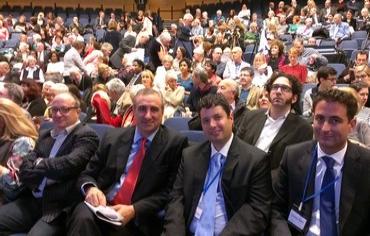 Hundreds of Jewish and Christian supporters of Israel came together in London on November 7, 2013 for a groundbreaking celebration of the ties between the two communities in Britain.
The interfaith event, "A Night to Honor Israel", was an endeavor by the Zionist Federation, in cooperation with Bridges for Peace, a Jerusalem-based organization that focuses on pro-Israel advocacy in the Christian community.
Some 900 people turned out for the event at Logan Hall in Russell Square, and the speakers included Eitan Na'eh, Israel's deputy ambassador to the Court of St. James; Josh Reinstein, the director of the Knesset Christian Allies Caucus; and Claire Lomas, the first British user of the Israeli-designed "Re-Walk" robotic suit, and the first paraplegic to complete a marathon wearing this device. Providing the entertainment were, among others, violinist Ariella Zeitlin-Hoffman and members of the Israeli Opera.
Reinstein called on supporters of Israel to stand up to critics of Zionism, branding anti-Zionism "the newest form of anti-Semitism."
"It is up to people of faith, both Jews and Christians to come together around the world in order to combat this new form of evil" he said.