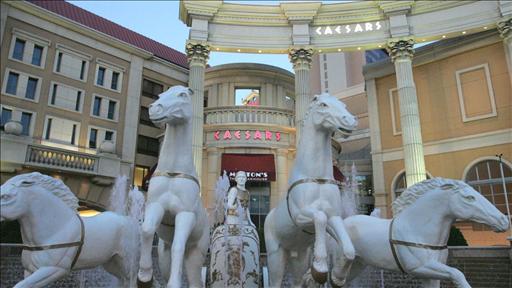 By Alexandra Berzon / The Wall Street Journal
(February 19, 2013)
New Jersey gambling regulators this month (February 2013) fined Caesars Entertainment Corp. $225,000 for the casino giant's role in a 2007 gambling spree in which a self-confessed gambling addict lost more than $120 million.
Even though the incident took place in Las Vegas, New Jersey's Division of Gaming Enforcement told Caesars in a letter that the company violated New Jersey's rules governing proper casino conduct. Caesars owns four casinos in Atlantic City, N.J.
Division director David Rebuck sent the letter to Caesars on March 7.
Industry insiders believe the gambling spree, by former toy entrepreneur Terrance Watanabe, to be the single largest continuous binge in Las Vegas history. After it ended, Mr. Watanabe and Caesars fought over whether the casino company bore some responsibility for his heavy losses. The dispute was the subject of a 2009 page-one article in The Wall Street Journal.
The New Jersey findings, based on internal reviews provided to the state by Caesars, offer the first public description of the company's own investigations of the matter, which were conducted in 2010.
Among the company's conclusions, according to the New Jersey letter: Senior managers didn't respond appropriately to allegations that Mr. Watanabe was using illegal drugs on company property and was making inappropriate sexual advances toward Caesars employees. Caesars told New Jersey regulators that three senior executives had their 2007 bonus pay docked in connection with the incident, the letter said.
Mr. Watanabe's attorney, Alan Isaacman, said his client denies any allegations of sexual misconduct, but Mr. Isaacman said he couldn't comment on the allegations of illegal drug use. He added that Mr. Watanabe, who now lives in a modest Los Angeles apartment, maintains that he was intoxicated for much of his losing streak on alcohol provided by Caesars.
Mr. Watanabe "has an illness related to gambling. He has lost a very large fortune completely," said Mr. Isaacman.
Caesars spokeswoman Jan Jones said the company has since upgraded its internal procedures. "That was a very unusual circumstance," she said. "But it doesn't change that we've been the leader in responsible gaming programs and training."
She said the company shared its reports with other state agencies that regulate Caesars, Caesars revised its ethics and compliance program in the wake of the incident, according to the New Jersey letter. The New Jersey regulators declined to comment. Their fine and letter to Caesars were reported earlier by the Associated Press.
In 2007—according to his lawyer, Mr. Isaacman—Mr. Watanabe spent much of the money he made from the sale of his family's Omaha, Neb., party-favor business on months of gambling at the Caesars Palace and Rio casinos in Las Vegas, which are both owned by Caesars, then known as Harrah's.
The casinos provided Mr. Watanabe with their top suites and gave him round-the-clock security, limousine service, free food and alcohol and several bellmen to attend to his needs, the New Jersey letter said, describing a report submitted by Caesars.
The district attorney for Clark County, Nev., later charged Mr. Watanabe with four felony counts stemming from $14.7 million the casino said it extended him in credit, which he didn't pay. Mr. Watanabe pleaded not guilty to the charges.
Mr. Watanabe sued Caesars in civil court in Nevada and claimed that casino staff plied him with liquor and pain medication as part of a systematic plan to keep him gambling. The company denied those allegations.
The charges were dropped in 2010 before either case went to trial. Mr. Watanabe agreed to pay a $100,000 settlement to Caesars, according to the New Jersey letter.
According to the letter, Caesars provided New Jersey regulators with two reports written in 2010, including one from an outside investigative firm. The company's reports found that Mr. Watanabe's allegations regarding the provision of drugs and alcohol were unfounded, the letter said. The reports said that the company's Compliance Committee and general counsel recognized that much of what senior management did to accommodate Mr. Watanabe was appropriate.
Yet the company's compliance committee believed that top managers at Caesars casinos didn't respond appropriately when told by employees about Mr. Watanabe's alleged sexual conduct in their presence and sexual advances toward them, the New Jersey letter said. In one case the managers ignored legal advice to confront Mr. Watanabe about his behavior, the letter said.
In issuing the fine, New Jersey regulators concluded that Caesars' conduct could reflect poorly on the state or the gambling industry.
In 2011, Nevada's main gambling regulatory body, the Nevada Gaming Control Board, concluded a six- to eight-month investigation of the incident, but it didn't fine Caesars or take public action, according to A.G. Burnett, the state's chief regulator. Nevada regulators instead worked with Caesars to help change its internal processes, Mr. Burnett said.
One question in that probe was whether Mr. Watanabe was visibly drunk while gambling, as some then-current and former Caesars employees described him to the Journal in 2009. Nevada law says anyone who is visibly drunk shouldn't be allowed to gamble. Caesars' internal probe found that Mr. Watanabe was in control of his faculties, the New Jersey letter said. Nevada regulators, who interviewed Mr. Watanabe and saw casino video footage, didn't conclude he was visibly intoxicated while gambling, said a person familiar with the matter.
The case isn't the first in which New Jersey's gambling regulators have taken a tougher stance than Nevada's. In 2010 New Jersey regulators found that MGM Resorts International's partner in a Macau subsidiary was unsuitable after Nevada regulators had cleared the partnership. New Jersey is currently re-evaluating that decision. MGM has maintained that the partnership is suitable.
In the Watanabe case, Nevada regulators were "satisfied that what Caesars had done was enough," said Mr. Burnett, of the Nevada Gaming Control Board. "While the company could have done some things better, I think there was a feeling among the Gaming Control Board that Mr. Watanabe brought a lot of that upon himself."