Keren Kayemeth LeIsrael
Jewish National Fund
www.KKL.org.il
Families, embassy representatives, foreign journalists and representatives from churches visit KKL-JNF distribution centers in central and northern Israel to pick out a beautiful tree for Christmas.
Every year, KKL-JNF has open days for the distribution of Christmas trees to institutions, organizations, and individuals. Many Christian families, mixed families, embassy representatives, foreign journalists, and representatives from churches in Israel go to the KKL-JNF distribution centers in central and northern Israel to select a beautiful tree for the holiday.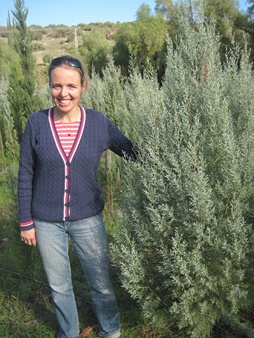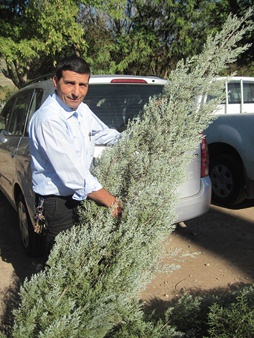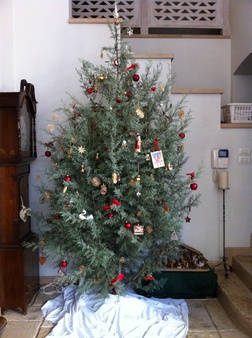 "The scent of the trees and the forest reminds me of Christmas in the Czech Republic when I was a child," said Francheska Goodenough, who came to Israel twenty years ago as a volunteer, fell in love with the country, and has lived here ever since. Her seven children were all born in Israel, and her eldest son just started his IDF army service a few weeks ago. She came to the KKL-JNF nursery in Givat Yeshayahu, which is near Beit Shemesh, in order to buy two trees — for her family and for friends.
"When I was a little girl, I would go out to the forest with my father before Christmas, and together we would choose a suitable tree and take it home," Goodenough recalled. "What I'm doing here today takes me back to those days." When asked if she was hoping for a white Christmas in Jerusalem, she admitted that at this point she can do without those childhood memories, since she has already gotten used to the weather in Israel, and she prefers a warmer Christmas.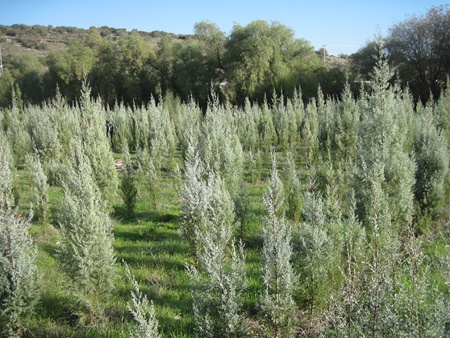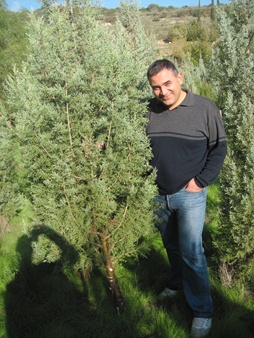 Bilal Kifah, a Christian Arab from Jerusalem, walked among the trees with his wife deliberating for almost an hour. He examined them one by one, felt the leaves, and imagined how they could be decorated. "Choosing a tree is like choosing a wife," he said with a grin. "It has to be full but not too dense, so that the lights and ornaments can be seen. It has to be tall, but not too tall, because anyway the tip gets clipped so the star can be placed there, and, most important, it has to be green and beautiful. I am being so choosy about selecting a tree mainly because I'm afraid of my wife — she shouldn't say I chose a tree that wasn't beautiful."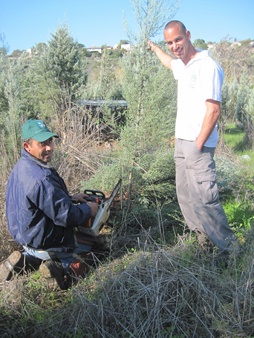 Kifah said he has been coming to the KKL-JNF nursery every year for more than ten years already. "The KKL-JNF trees are very suitable, and they last a long time. Our custom is to put the tree in a large ceramic pot, and it stays beautiful until my birthday in February."
The distribution of trees at KKL-JNF sites expresses a beautiful aspect of life in Israel, with KKL-JNF workers of all religions — Jews, Muslims, and Christians — distributing Christmas trees to the diverse residents of Israel who celebrate the holiday. Distribution takes place at three locations: in central Israel at the KKL-JNF nursery in Givat Yeshayahu, in northern Israel in Nazareth, and in Wadi Salame. The species chosen to decorate the homes for Christmas is the Arizona cypress, which is a strong and hardy tree that flourishes in the climate of Israel and is also grown in KKL-JNF forests.
KKL-JNF foresters cultivate the trees in a special plot near the KKL-JNF offices in Givat Yeshayahu for two years, until they reach a height of about two meters. In northern Israel, KKL-JNF foresters cultivate the trees in special spots in various forests, and before Christmas, as part of their work on thinning the thicker forests, they sell the trees to the general public. Thus, they prevent the illegal felling of trees and provide the public with trees they can enjoy for the holiday.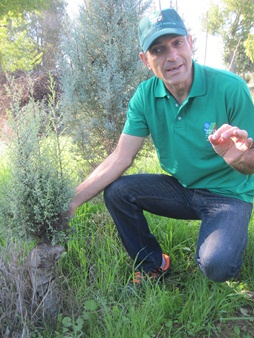 "Just like we distribute branches for Sukkot, the Feast of Tabernacles, we distribute trees for Christmas to our Christian friends," said Yossi Sharuani, a KKL-JNF forester from the Massua area. Yossi explained that the tree gets sawed about forty centimeters from the ground. A new tree will grow from the tree stump, and within five years it will grow again into a beautiful tree that will decorate a home in Israel for Christmas.
In addition to the families that came to buy a tree, many churches sent representatives to pick up Christmas trees. They chose the largest and most impressive trees for installation in the churches of Jerusalem and other places. Early in the morning, a group of nuns from Jerusalem arrived, spent a good amount of time at the nursery, and chose the trees that seemed prettiest to them. The KKL-JNF workers were surprised to see the group as early as seven in the morning, with their first cup of coffee, although for the nuns, who rise at dawn, it was almost midday already.
Sarah Singer from the Department of Christian Communities at the Israel Interior Ministry said that "distributing trees to the churches reinforces our relations with the Christian institutions in Israel, and we see great importance in this."
David Moore from the Canadian Embassy in Israel came to get a tree with his family — his wife Cheryl, and their children Sarah and Paul. "We traveled a long way from Tel Aviv so we could pick a tree," said David, "not to mention the long way from Canada, but we are privileged to have a Christmas tree that has grown here in the land of Israel, and there is nothing more special."
"Thanks to KKL-JNF, we and our families can observe our holiday tradition," said Dion Vautor, his friend from the Canadian Embassy.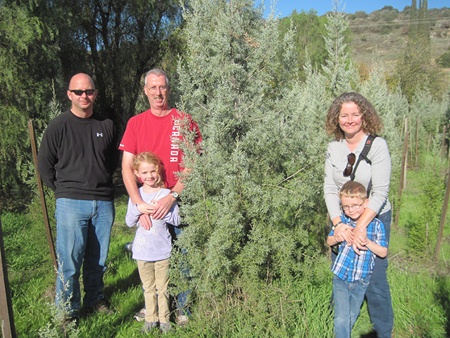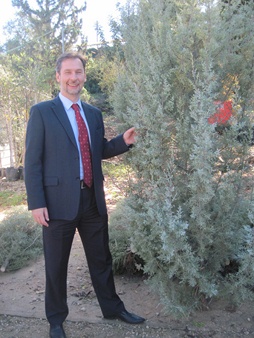 Eduard Marcus, a representative from the Argentinian Embassy in Israel, described the beaming faces of the diplomats when he brings them the trees every year. "It's wonderful that they can celebrate Christmas properly, even when they are so far from home," he said.
Vadim Pankov, the First Secretary at the Russian Embassy in Israel, arrived himself to choose trees for all the Embassy personnel. Pankov has a special interest in the work of KKL-JNF, for one thing because his doctoral thesis focused on the work done by KKL-JNF in the period of the first and second immigrations. "Although there is no real winter in Israel," he said looking up at the warm sun, "the whole family can still sit together around a Christmas tree, give the children gifts and observe our tradition."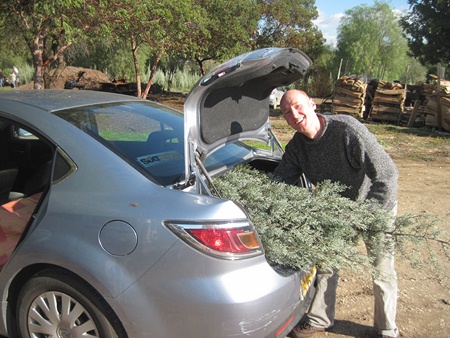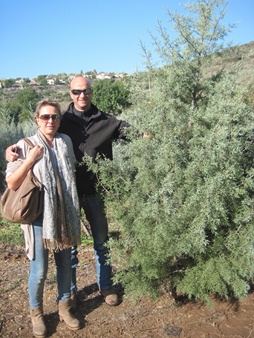 Richard Connor, originally from England and at present from Tel Aviv, was enjoying the experience of selecting a tree in the forest. "In England you buy a tree that is already cut and ready to use, but here it is really a pleasure to be out in nature. Even though these trees are different than the fir trees that we're used to, the important thing is to bring green into the house during the dead of winter."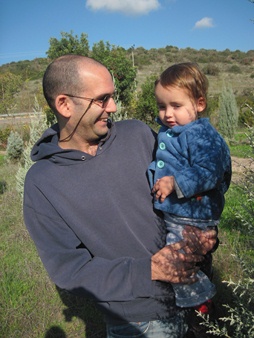 "I converted more than thirty years ago," said Marion Miller, "but I am reluctant to forego this holiday. At home we celebrate Hanukkah and also Christmas — in Germany this is called multi-culti — multi-culturalism."
The wife of Shai Freund from Rehovot, also a convert, came from Belgium about twenty years ago. "It's not a religious thing, just part of the culture," explained Freund. "We want our son to know this side of the family culture, too." Indeed he had come with his small inquisitive son, who was very interested in the process of selecting a tree and having it sawed.
"Like everyone, I have seen a lot of American films about Christmas, so I try to pick a tree that reminds me of what I've seen on TV," said Freund with a smile. "In Belgium, at the home of my wife's parents, there is always a large magnificent tree, but I think this time we will be quite pleased with something a little more modest."