The Jerusalem Post
By LIDAR GRAVE-LAZI, September 2, 2014
Students arrived as part of Education Ministry's efforts to operate, finance education programs bringing Jewish teens from around the world to study in Israel.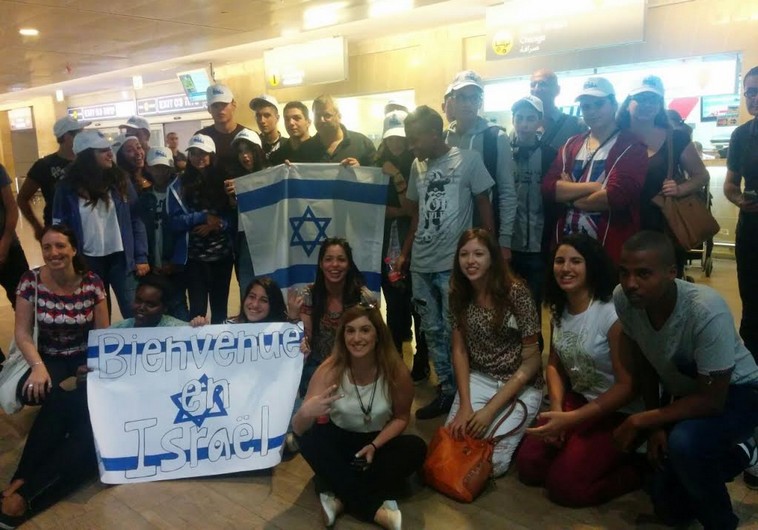 Some 1,800 high-school students from 43 countries arrived in Israel to open the 2014/15 school year this week at high schools and boarding schools, many of which are in the South.
"I am coming to learn in Israel because I am a Zionist and I see my future here.
I want to enlist in the IDF and become an officer, and I aspire to work in the Mossad," said Shana Saknazi, a 15-year-old student from Cannes, France.
Saknazi arrived in Israel on September 1, and is set to begin the ninth grade in Hadassim Youth Village in Even Yehuda. She has an older brother who made aliya three years ago and resides in Netanya, close to where she will be studying.
She said her hope is that her parents will soon make aliya from France as well.
The students arrived as part of the Education Ministry's Administration for Rural Education and Youth Immigration, which operates and finances education programs bringing Jewish teens from around the world to Israel for high-school studies.
Some 1,500 students arrived as part of the Na'ale program, a Hebrew acronym for "Youth who immigrate before their parents," while the additional 300 arrived as part of French and Latin American study programs.
All the students underwent registration processes abroad, screening and placement in the education institution of their choice according to their preferred educational interests.
"You have made a brave Zionist decision to come study in Israel. The education staff in schools and boarding schools will do everything to provide you with warm family feeling and support during your stay in Israel," Dr. Benny Fisher, head of the Administration for Rural Education and Youth Immigration, told the students at Ben-Gurion Airport upon their arrival to Israel this week.
The students arrived from countries such as the US, Canada, Australia, France, Germany, Italy, the Netherlands, South American countries, Russia, Ukraine, Moldova, and, for the first time, also from Romania and Finland.
Of the students, some 250 will study in academic institutions in the South, in schools that are in a 40 km. radius from the Gaza Strip.
"With the exception of a few cancellations and transfer requests from educational institutions in the South, all the students who enrolled and were accepted arrived as planned and will be absorbed into the educational institutions they were pre-assigned to," said Fisher.
Lana Takachenko, an eleventh- grade student from Russia, arrived in Israel this week to complete a third year in the Kfar Silver Youth Village in the Hof Ashkelon region.
"Despite Operation Protective Edge, it was clear to me that I will be returning to continue my studies in Israel. This is my place. I feel as though I belong to the people and to the country," she said.
Takachenko added that while it was not easy to be a lone student in the country, she has made countless friends and intends to enlist in the IDF and serve the country when she graduates from high school.