Dear Friends,
"The Way, the Truth, and the Life" (John 14:6) may be the most succinct job description ever. Jesus (Yeshua) is saying "I Am," which was God's signature statement to Moses out of the burning bush: "I am that I am."
Moses warns Israel to watch for another deliverer "like unto me" who will be The Deliverer for all Israel (and mankind). Of course we know that this points directly to Jesus, David's greater son. Jesus subsequently adds, "I am ha derekh, ha emet, and ha chayim… the way, the truth, the life," thus bringing to life the verses about Him in Philippians, chapter two:
6 Who, being in the form of God, did not consider it robbery to be equal with God, 7 but made Himself of no reputation, taking the form of a bondservant, and coming in the likeness of men. 8 And being found in appearance as a man, He humbled Himself and became obedient to the point of death, even the death of the cross. 9 Therefore God also has highly exalted Him and given Him the name which is above every name, 10 that at the name of Jesus every knee should bow, of those in heaven, and of those on earth, and of those under the earth, 11 and that every tongue should confess that Jesus Christ is Lord, to the glory of God the Father.
Yeshua's incarnation into a Jewish family in a Hebrew community was not random! It majestically fulfilled covenant promises to Abraham's son. God foretold and fulfilled, and we need to believe.
Christianity has drifted painfully far from its Jewish roots. To most Jews, biblical faith in the Jewish Messiah is virtually unrecognizable. So, what is the good news? God is alive and well, and more Jewish people are coming to faith in Yeshua than in any era since the Book of Acts! As you view our series Acts: Then and Now … The Story Continues, you will encounter powerful, contemporary expressions of God's life through the Israeli body of Messiah.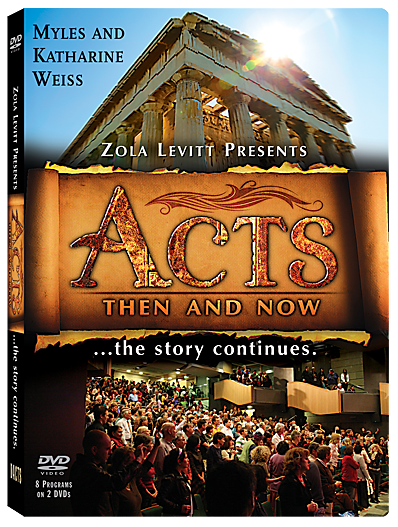 Awareness of the Gospel's "Jewishness" is increasing as the Lord's return approaches. Jerusalem is in the news every day, because God keeps His promises that date back to Abraham, father of the Jewish people. By the way, watch for our upcoming TV series on Abraham, which amply documents the irrefutable evidence of a Jewish presence in the Land "from time immemorial."
As a ZLM supporter, you help us awaken these sometimes-dormant promises in my Jewish people. You and I must relate the Good News of Yeshua in a Hebrew context so that Jewish people realize that these promises are for them. Rather than joining a new religion, we Jewish disciples of Messiah are living the most biblical Judaism possible. Follow me here: since Jesus is the Jewish Messiah, then it's a Jewish decision to follow Him. In fact, following Yeshua fulfills prophecies for our people. Throughout the Tanach (the Old Testament), the prophets wrote about Him and His call to His own people.
Although His identity is peppered throughout the OT, some fathers in the faith really disclose who He is.
Isaiah, in chapters 9 and 53, illustrates His work and identity.
Zechariah maps out the circumstances of His return and our response to Him in chapters 10 and 12.
Joel portrays His time in the netherworld, picturing the death and resurrection.
Moses' life and miracles point to Yeshua, "a prophet like unto him" (Moses).
David's Psalms form the basis for some of His last days and teachings.
Joseph, in character and his life's circumstances, foreshadows the Deliverer of the Jews and the world.
Micah (5:2) even pinpoints His birthplace!
Over three hundred verses, taken together, clearly depict the Messiah of the Jewish people and Savior of the world. These verses can be about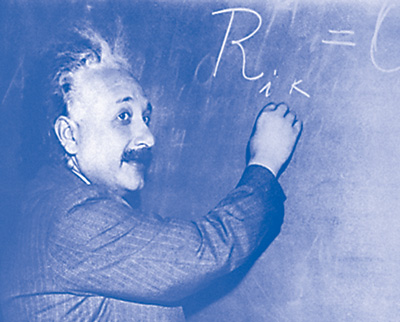 only the One whom Albert Einstein tagged "the luminous figure of the Nazarene." My Jewish people may accuse the preacher of "teaching from the Christian Bible"—until it is revealed that the OT alone is the source for this Gospel! Hebrews 4:12 notes, "For the Word of God is living and powerful, and sharper than any two-edged sword, piercing even to the division of soul and spirit, and of joints and marrow, and is a discerner of the thoughts and intents of the heart." This living Word—all of it—reveals the Messiah to "whosoever wills." That is a key reason this ministry continuously teaches from the Bible on television, in the Levitt Letter, and at www.levitt.com.
As a new Believer, I discipled with Jews for Jesus during a NYC summer campaign. My pastor wisely encouraged me to go "experience some persecution" for the Gospel's sake. Off I went to Moody Bible Institute for two weeks of training in Jewish street evangelism and then four weeks on the streets of New York. I offered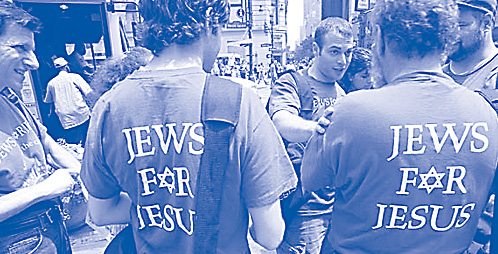 the Word of God to anyone who would take a tract and listen.
Afterwards, I shared the highlights with my mom, aunts, and uncles. From Isaiah 53, I read the most painfully accurate description of the Lamb of God. The Scriptures spoke for themselves. A palpable, holy hush filled the room. In the dim evening light, the sacrifice of Yeshua shone brighter than the sun. We sat in silence. I ventured, "That feeling we all have at this moment—that is the Holy Spirit of God telling you that what I just read is true. Jesus, whose Hebrew name is Yeshua, is the Messiah." More silence. When it became intolerably tense, Aunt Annie from Scotland turned to Uncle Sam and offered, "Well, Sammy, he seems happy."
My demeanor portrayed the efficacy of my newfound faith! They had known me as a wild child—bright, but a lost cause. After my father's death when I was nineteen, my psyche imploded and I grasped at one straw
after another. Now I had a confident enthusiasm and sense of purpose. I was "at home" in my own skin for the first time.
Once the Messiah's Jewish identity was restored to my family, they experienced the promises of God through Abraham—an invitation into an intimate relationship with God. Not conversion to a new religion and a new culture—but an inner transformation that drew them closer to God Himself. A wrestling match began in each of them. To God's glory, He won with both my mom and my sister, who each professed faith in Yeshua.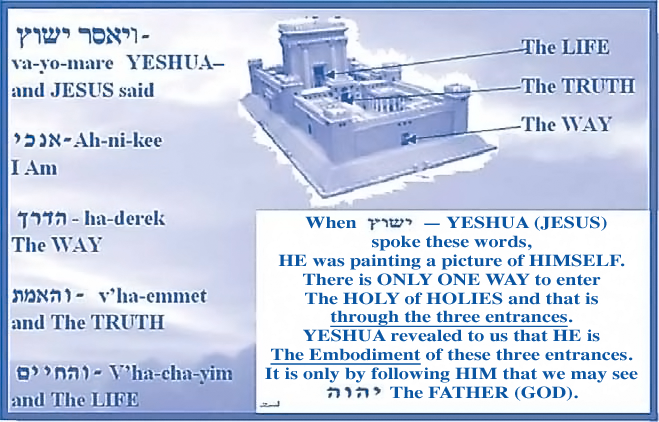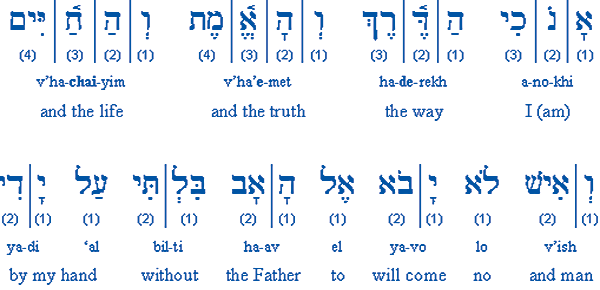 They never became gentiles or took on the trappings of church culture. White bread and mayonnaise never replaced rye and mustard. No rosary beads instead of Sabbath candles. They maintained their Jewish identities and some Jewish customs while learning of Him. They knew WHO was the object of their worship, their customs, and their Moedim (appointed times).
They each began to show evidence of a new heart! My sister's chronic "I Am" anxiety gave way to a lighter outlook. She began to serve others and take pleasure in blessing those around her. She spread joy throughout the faith community. When she left this Earth, I had a Star of David and dove engraved on her cemetery headstone with this phrase: "She always left us smiling."
Mom also had a new heart. Previously one of the bitterest women ever, she too smiled and enjoyed life. I was astounded! Hannah, my tiny, angry mother listened intently to Bible studies with emissaries from my congregation. She developed a Naomi-and-Ruth relationship with my wife Katharine. At the very end, after Mom's memory dimmed, Katharine's face was her beacon. Seeing Katharine's shayna punim (Yiddish for pretty face), she would light up. All was well with her soul.
Not only are various Israelites transforming via the touch of the Master, but also gentile Believers are receiving a new heart for Israel. Parishioners worldwide are awakening to love the Jewish people and pray God's blessing upon them. Forerunners like Zola have been trumpeting this call for decades. Now voices throughout the world proclaim that Israel's well-being matters!
You know, every journey to Israel is life-changing. Zola believed that a pilgrimage is worth more than ten years of Sunday School. The Bible comes alive and a lifetime of learning is illuminated. During last fall's excursion on the Sea of Galilee worship boat, I taught about Yeshua's miracles there. God blessed us with His presence as we were caught up in song and prayer. The anointing of God was so intense that other boats drifted near to see what was happening on our boat. Each pilgrim felt as if we had been with Him when He walked on those shores—and water!
Come with us! You can choose from these Zola Tours options:
The Athens/Israel extension travels October 9–24.
The Israel leg travels October 14–24.
Extend your stay and visit Israel and Petra in Jordan: October 14–28.
Or include all three tours—Athens/Israel/Petra—October 9–28.
(This option offers the best value.)
Believers are recognizing Jeremiah's new covenant promise:
31:31 Behold the days come, saith the Lord, that I will make a new covenant with the house of Israel, and with the house of Judah: 32 Not according to the covenant that I made with their fathers in the day that I took them by the hand to bring them out of the land of Egypt; which covenant they broke, although I was a husband to them, saith the Lord. 33 But this shall be the covenant that I will make with the house of Israel; After 7 those days, saith the Lord, I will put my law in their inward parts and write it in their hearts, and will be their God and they shall be my people.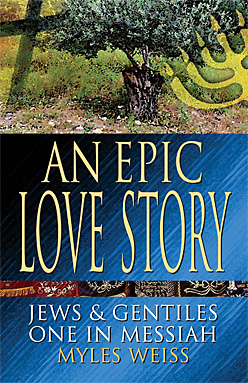 Ah! No wonder Jesus said He came for the lost sheep of the House of Israel. His mission was to the Jew first! Then, the Holy Spirit reiterated that priority through the Apostle Paul. The Gospel specifies to the Jew and also to the Greek (i.e., everyone else). That is God's pattern. The New Covenant originally came to the Jews. Our national rejection of Yeshua opened the door to the entire world. God in His mercy knew that we Jews would reject Him, and in doing so allow multiple generations of gentiles to come to faith in the Jewish Messiah. What foresight and non-prejudicial love! (For a succinct synopsis of this master plan, see my booklet An Epic Love Story.)
Jeremiah understood the condition of man's inner life. His classic, oft-quoted statement, "The heart is deceitful above all things, and desperately wicked: who can know it?" (17:9) asks that cosmic question … and then the prophet answers it for Israel and the entire world.
Due to the fall of man, we are spiritually adrift, disconnected, and dead in sin until God's unmatchable mercy renews us. His sacrificial birth, death, and resurrection allow us into fellowship with Him. He provides us a new heart, and we begin to understand His heart. Your new heart beats in sync with His, and you love His earthly family—the Jews—and their tiny nation, Israel. It's very simple:
The Jews are His family.
God keeps His promises.
We are to honor the fathers in the faith, not curse them as some have.
They are so near and yet so far from Him that they need to be prodded by your Christian love and good works.
He is coming when the Jewish people call upon Him.
Their salvation will mean life from the dead!
Upcoming TV programs will conclude our series Acts: Then and Now … The Story Continues. In our ministry's signature approach to the Holy Land, we take you to the "ancient rocks and living stones!" Our viewers travel through our camera to the most spectacular sites in Bible lands, and hear from contemporary leaders in the Body of Christ. God is alive and well, and this Bible teaching will greatly encourage our ZLM community. In June, look for these programs from Acts:
The One New Man

In his letter to the Ephesians, Paul immortalizes the unity of the Spirit between Jews and Greeks (non-Jews) in Messiah.

The Price He Paid for Us

In the Garden of Gethsemane, Myles discusses the blood of the sacrificed Lamb. Interviews with local Believers underscore the price to follow Jesus in Israel today.

Upon This Rock

Matt. 16 proclaims the identity of Messiah. Tents of Mercy ministry has provided Russian immigrants with humanitarian aid and "living water."

The First and the Last

We get a "God's eye" view of the role Messianic Believers play in these Last Days.
Please keep up your good work, and help us spread the Good Word. Pray for us daily, and contribute regularly. Share our teachings—Zola Levitt Presents, the Levitt Letter, www.levitt.com, and other teaching materials—far and wide. I never could accomplish this outreach without you, and I praise the good Lord that you and I are in this together. Thank you for what you've done, are doing, and will do to uphold this mighty evangelical work.
Sha'alu Shalom Yerushalayim—Pray for the peace of Jerusalem!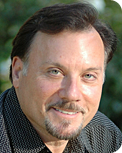 Your messenger,


P.S. Seeing God's promises to Israel through the prophet Jeremiah's eyes is difficult. While the prophet's spiritual insight is crystal clear, he has tears in his eyes from seeing the condition of Israel's heart and the answer in God's heart. A new heart for Israel and a new heart for you … towards Israel.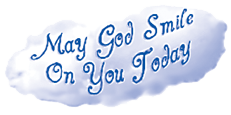 Feedback
Dear Myles,
Jesus declared Himself to be "I AM," an expression of God on Earth related to God telling Moses, from the burning bush, "I am that I am."